By Melanie Zavodny, SPJST Vestnik Editor/Director of Communication
When life hands you lemons, you make lemonade. But when life hands you a traffic jam on Interstate 35 – in the middle of a construction zone – you entertain!
And, that's exactly what Ray Koncar of Joliet, Illinois, did. At 6 a.m. on Wednesday, May 31, Ray and his wife, Annette, began their 16-hour trek back home to Joliet after visiting their daughter, Margaret, who lives in the Austin area.
"We were a little over an hour into the trip when we came to a stop in Temple," Ray said from his home in Joliet on Thursday morning.
According to Texas Department of Transportation, just after 7 a.m., a multi-vehicle accident south of Troy that included two 18-wheelers blocked all lanes of traffic. Then, around 8:30 a.m., Southbound I-35 was the next location for a six-vehicle accident. All lanes were affected, and the accident took about two hours to clear the scene. Traffic was backed up for several miles on I-35 through Temple. Thankfully, no major injuries were reported in the accidents.
Ray says he didn't get out of his vehicle right away. "The traffic was backed up as far as I could see . . . it was bumper to bumper with cars and many semis everywhere." But after about five minutes, he realized that they would be stuck there for awhile. "With 15 more hours of traveling ahead of us, I decided to turn the engine off and get out of the car."
Ray talked to a few other stranded motorists around him including a truck with four gentlemen who were concerned about being late to work. "It was a quarter to 8, and they were supposed to be at work at 7:30. They were worried." He thinks that many of the travelers were on their way to work, and many were communicating with their employers about being late. "I could tell it wasn't going to be 'just a little late' either." The situation was stressful, to say the least.
"It was a beautiful day outside, and no one wanted to sit in a two-hour traffic jam," Ray remarked. "My band had a gig scheduled for Friday night, and I didn't really have an opportunity to practice while visiting in Texas – and I didn't want to get rusty!" So, with the I-35 traffic at a standstill, he decided to take out his button box accordion that he purchased on one of his visits to Slovenia, where Ray's ancestors are from.
He played polkas. He played waltzes. He played all kinds of music for the wary, waiting travelers.
And, their reactions . . . "People didn't mind listening to the music. Most people found it entertaining," he said. "My wife got out and danced, and other people danced, too."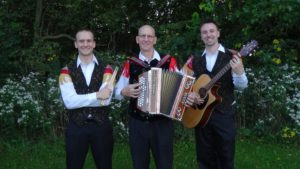 Ray has been playing the accordion since he was 25 years old. He is a part of the band "Ray Koncar and the Boys." They began playing polkas, waltzes, pop standards, country, and rock at picnics, dances, fundraisers, Oktoberfests, and parties eight years ago. Band members include Ray on the button box accordion and vocals and his sons, Rob on clarinet, sax, and vocals; Frank on guitar and vocals, and John on drums. Occasionally, daughter Amy joins in on piano and daughter Margaret on flute. "And, Annette holds us all together," Ray says as he proudly credits his wife!
A few of the travelers took photos of Ray playing his accordion among stranded cars and semi-trucks along the I-35 construction mess in Temple. The photos then started showing up on social media.
What an interesting photo, I thought – and what a way to kick off June as National Accordion Awareness Month! I shared the photo on our SPJST Facebook and Twitter pages along with a story by Temple Daily Telegram staff writer Deborah McKeon describing an unidentified man (Ray) as "a traveling troubadour." The article and photo later ran on the front page of the June 1 Telegram with the headlines "Interstate 35 traffic troubadour" and "Musical motorist plays polka while stuck in traffic."
I decided to take it a step further and attempt to seek his identity in order to get his story because I thought there might be a possible Czech connection. I posted the photo of "the unidentified man" playing his accordion amid the I-35 traffic jam asking readers to help identify him. I knew it was a long shot, but anything is possible if you try – especially with social media!
Through Wednesday afternoon and evening, the posts reached close to 40,000 people and were shared more than 200 times – across Texas and across the nation.
On Wednesday morning, April Sleyko, who is one of my Facebook friends, reached out. April is an employee of KSKJ Life, which – like SPJST – is a fraternal benefit society in Joliet, Illinois. April and I met last year in Florida at an American Fraternal Alliance conference. She posted, "He's one of our members! He's a member of KSKJ Life from Joliet, Illinois. He and his family were visiting his daughter in Austin. A very talented man." And, one more really neat fact – Ray's daughter Amy is an intern at KSKJ Life!
So, boom . . . just like that . . . I was on the phone with Ray getting his story. The power of social media really is incredible!
The first question I asked Ray: "Do you know that you are famous in Texas this morning and that you touched many people's lives yesterday?" He hadn't realize it yet!
"It was a stressful situation, but what I did wasn't a big deal," he said. "I wanted to try to make things better. Plus, it was another place to play the accordion – an opportunity to make people happy!"
The story seemed to touch many of the fans on SPJST's Facebook page:
Ruth Hanusch – I don't know him, but he was doing God's work. God bless you, sir.
Euwyn Pegues – Some people just know how to make the best of every situation.
Kat McGrew – Only in Texas.
Gladys Spoerle – Neat. I wish I could have been there❤
Johnny Smith – Sounds like a good time, considering the circumstances.
Karen Collie – Bless his sweet accordion playing heart!🎶🎶🎶🎶🎶
Karin Bryant – That's the kind of attitude we need!
Dennis Foerster – Wow, I worked for TxDot for 35 years. I have seen lots of things but never that.
Nancy Machu – Definitely the way to make a bunch of lives happier!
Ray and Annette reported that the rest of the trip was uneventful – other than a semi that almost ran them off the road. "But that was nothing that an accordion could fix," Ray laughed.
Ray says he'd be up for playing a gig when he comes through the Temple area again one day! We joked about pivo and vino—two words that I learned mean the same in Slovenian and Czech!
Oh, and we did find a Czech connection! Annette's great-grandmother was born in Slovakia when the country was still Czechoslovakia, and Annette's father who was born in Slovenia was able to communicate with her so the languages do have some similarities!
Ray and his accordion helped many people deal with a not-so-pleasant situation on Interstate 35 on Wednesday morning. "These situations happen, and all you can do is make the best of it," Ray said. "I tried to make the best of a bad situation by sharing music with everyone."
The next time you are in a stressful situation, remember Ray. Life handed him lemons, but he didn't settle for making lemonade. He made a festive, jovial scene for many to enjoy at the lemonade stand!
—SPJST—